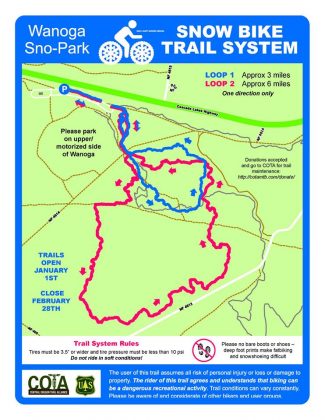 This coming January and February 2016, COTA will begin to groom trails for fat bikes!
Trails will be groomed with a snow machine and grooming sled. A short fat bike loop and a long fat bike loop are planned totaling about 9 miles of fast and fun trails. The trails will be 24" in width. The routes are currently being flagged and will not follow existing summer trails. The trail head will be at the Wanoga Snow Play area, shared with DogPAC.
Keep an eye on Central Oregon Fatbikes group on Facebook for current conditions and trail reports. Conditions will also be posted here on Bendtrails as well as on COTA's website.
COTA is accepting donations for trail maintenance.
Some Important Notes:
On weekends and holidays Cyclists are required to park in the upper (snow machine) parking area then ride down to the DogPAC trails.
DogPac has kindly given us permission to access our trails via their snowshoe loop. Please stay off of the DogPAC ski trails.
Fatbike trails will be marked with a blue diamond with a bike and are one-way.
Minimum tire width of 3.5 inches.
If your leaving a rut more than 1" deep Please do not ride.