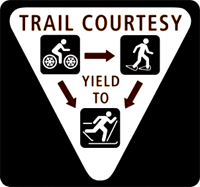 One of the nice things about fatbiking in the winter is the trails are NEVER the same day to day and often hour to hour. Check the weather before you go out. Be prepared, and carry extra warm clothes. Make sure you always yield to snowshoers and skiers!
If you're new to the sport, check out our post: Tips for Riding in Snow
Wanoga Loop
If Mother Nature gives us a good snow year we will be grooming one or two Wanoga Trails starting Jan 1st. Stay tuned for more information.
Phil's Trail Network

When there is snow in town ride Phil's trail network, specifically the Ben's, MTB, Kent's loop. Normally one or two days after a storm the stronger riders and walkers have broken trail on several loops. Up Bens, over on MTB and down Kents tends to be the first Loop that opens up. It's also open to riding on the weekdays during the current Phil's closure.
River Trail Rd 41 Loop
NF_41 and Cascades Lakes HWY. Park at the trail head on the corner. Then make your way to the river trail. When conditions are right you can ride to Benham falls then take NF-41 back.
Tumalo Falls Loop

I usually park at Skyliners snow park. Then ride up on the Tumalo creek trail, same as in the summer, and come back on the road which is closed in the winter. The creek trail is shared with snowshoers and skiers. This year 2015 they are plowing the road to the falls for the pipeline work crew. So I ride out and back on the creek trail. This trail is NOT recommended on weekends due to the large number of users.
Horse Butte Area

Many miles of roads and trails to explore. Start by checking out this map of Horse Butte. Best to keep to the lower elevation trails near the butte. Coyote Loop, Swamp Wells, Boyd Cave and Arnold Ice cave create a nice 10 mile loop from the butte.
Snowmobile Trails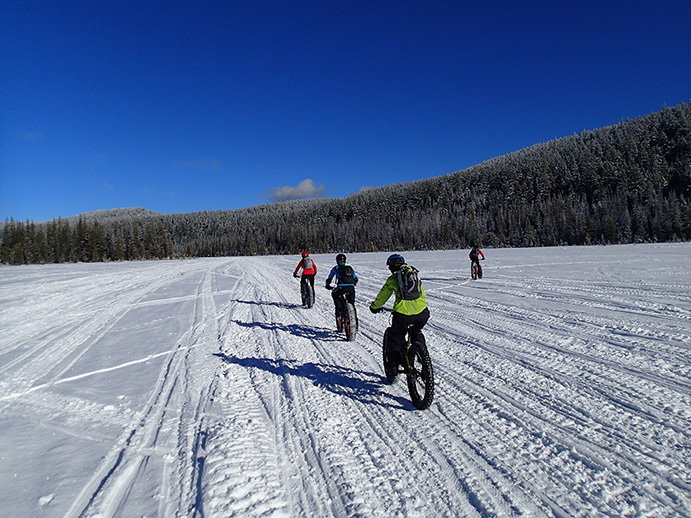 There are many rideable miles of snowmobile trails in Central Oregon.
Best Practices for Riding on Snowmobile Trails
When riding on snowmobile trails, use a front white blinker and rear red blinker at all times. Wear reflective material on both the front and rear of your body.
Stay to the far right of the trail and yield to snowmobiles. You won't have any problem knowing they are coming.
Be prepared. Winter travel in the backcountry requires carrying proper gear and dressing properly. Be self-sufficient!
Use extreme caution when riding at night. Be visible.
Be friendly! Fat bikers are the newest trail users. Many areas of the country Fatbikes are NOT allowed on snowmobile trails. Be happy we can use them.
You can get maps at the FS office and at the snowmobile trailheads. Your cell phone will most likely NOT work in these areas, so bring printed copies of maps.
Expect to meet snowmobiles, dog sleds, and skate skiers on the trails. Snowmobile hand signals — learn them. I find they also hold up fingers signifying how many in their group. You can always hear them before they get to you.
Wanoga Snowmobile starting at Dog friendly area
Start over at the non motorized/ sledding side of Wanoga. You are allowed to head out on the snowshoe trail which starts the same location as the cross-country ski. As you pass the sheds they store the groomers you will see the snowshoe trail going to the right, Look for the blue blaze with a Fat-bike. Follow it to the south, take the fork to the left which will take you to snowmobile trail #2. PLEASE, PLEASE watch out for snowshoers and dogs on this trail. I really appreciate DogPAC for allowing us to share the trail. It is a much more pleasant way to start your ride vs the other end of Wanoga where the snowmobiles start!
Now that you're out on the snowmobile trails there are lots of options. Turn left when you hit trail #2 which will merge into #3 and follow the signs to Edison snowpark. Get a map and explore the many options.
Dutchman Flat

Park at Dutchman Flat snow park or in Mt Bachelor lot. If you park in Mt Bachelor, the "Common Corridor" is NOT open to bikes. Take the road to the right as you are leaving the parking lot it heads toward the maintenance area. A short ways down you will see a storage container on the left with a berm of snow next to it. Quite often there is a forest service truck parked here. They unload their snowmobile on the berm. Go over the berm and follow the trail it takes you to where the grooming machines cross the HWY. Then your trail options are vast. A few examples are:
Moon Mountain Loop ~11 miles

From Dutchman Sno-Park (Jct 153)head out across the flat on trail #7 to Jct 170, 2.5 miles, Stay on trail #7 toward Jct 180 1.1 miles, Left at 180, trail #8 to Jct 181 .8 miles, Left at 181 on trail #7 around Moon Mountain back to Jct 180 1.9 miles, Right on trail #8 down to Todd lake and Cascades Lakes Hwy/ trail#5 Jct 154 3 miles, Right on Trl #5 back to Dutchman Sno-Park 1.6 miles. Look at a trail map as there are some alternatives to mix it up a bit each time you ride.
Elk Lake Out and Back ~22 miles
Start at Dutchman Sno-Park Head out trail #5 to Elk lake. Call ahead and reserve a spot for lunch or a cabin for the night.
Dutchman Sno-Park to Three Creeks Meadow ~14 miles ONE WAY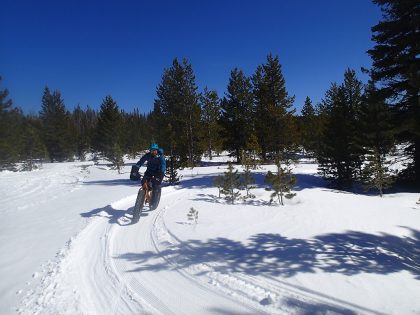 Trail #7 to Jct 170 2.5 miles, right to Jct 160 .4 miles, left on Trail #6 to Jct 182 1.4 miles, right on Trail #8 to Jct 183 4 miles, left on Trail #8 to Three Creek Meadows 5.7miles. You can do this as an out and back, One way and plant a car at Three Creeks Sno-Park, OR ride to Three Creek Meadow then back to Jct 183 left on Trail #88 to 4601 Down 4601 to the snow line and pick up Mrazek to town.

This article was contributed by Gary Meyer. Gary is a long time Bend MTB rider and the COTA Winter Trails Steward. He's leading the charge to create new, groomed, fat bike trails in the Wanoga area and helping us add snow biking trails and routes on our maps.