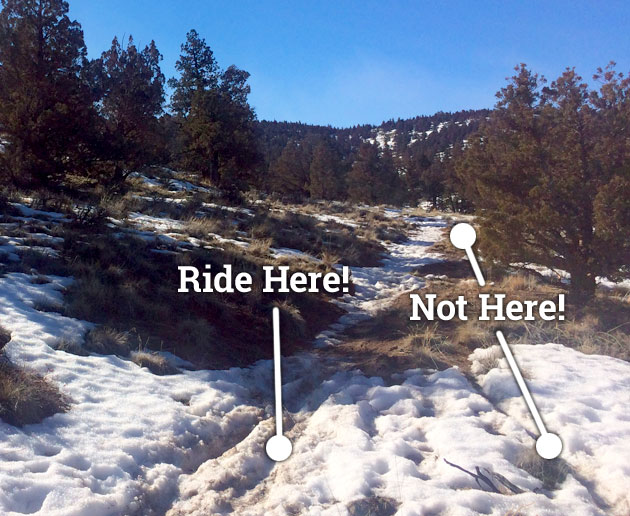 Don't ride around the snow. Ride or walk where the trail is.
Ok, so we all know it's been a long winter and there has been limited to no riding. Finally, a few of the trails are slowly opening up and there's some dirt to be found. I can do a two hour ride at Horse Ridge if I go up all the trails to the snow-line and turn around, plus ride to the top of Horse Ridge on the old highway. There still are — and will continue to be — lots of snow patches. This is going to be the case all spring and into early summer.
When you come up to a snow patch, don't ride around the snow. Ride or walk where the trail is. This is proper trail etiquette and it's the right thing to do.
This does two things: The first is obvious, it keeps our trails single track, and isn't that what we all want? Second, if you walk or try to ride through the snow it will melt quicker, so the next time you ride, it might be rideable.
So come on, let's try and do the right thing.
I've been to Horse Ridge a few times this winter and people have been behaving badly. I find it interesting that people will ride around a snow patch so they can get 30 more seconds of riding before they come to a completely unrideable section and they turn around.
I hope I don't see any of you acting bad because you will get a lecture.
This article was contributed by Don Leet. Don is one of the original Bend mountain bikers and the former owner of Sunnyside Sports. He still works three days a week at Sunnyside. His career highlights are a Bronze and Silver Medal at the 1988 NORBA World Championships in Mammoth Lakes Ca, and a Gold medal at the 2011 USA Cycling National Championships in Sun Valley. He is now retired from racing but continues to ride and love Mountain Biking.